A new season brings about a whole new crop of trends to play with and this spring is definitely all about fun and flirty vibes. It can be hard to sift through which fashion movements to mix into your wardrobe, but ultimately it's important to choose the ones that bring up the highest feelings of joy when you click "add to cart!" I chose the three that I'm most excited to explore and the best part is that they can be mixed with each other to balance elements of structure and texture.
While we are still dealing with the weather teasing us, one trend that will help with transitioning is the utilitarian craze. If you really want to commit to the trend, rock a jumpsuit! But if you'd rather add in pieces like trousers and jackets, play with contrasting softer pieces such as silk blouses and woven bags.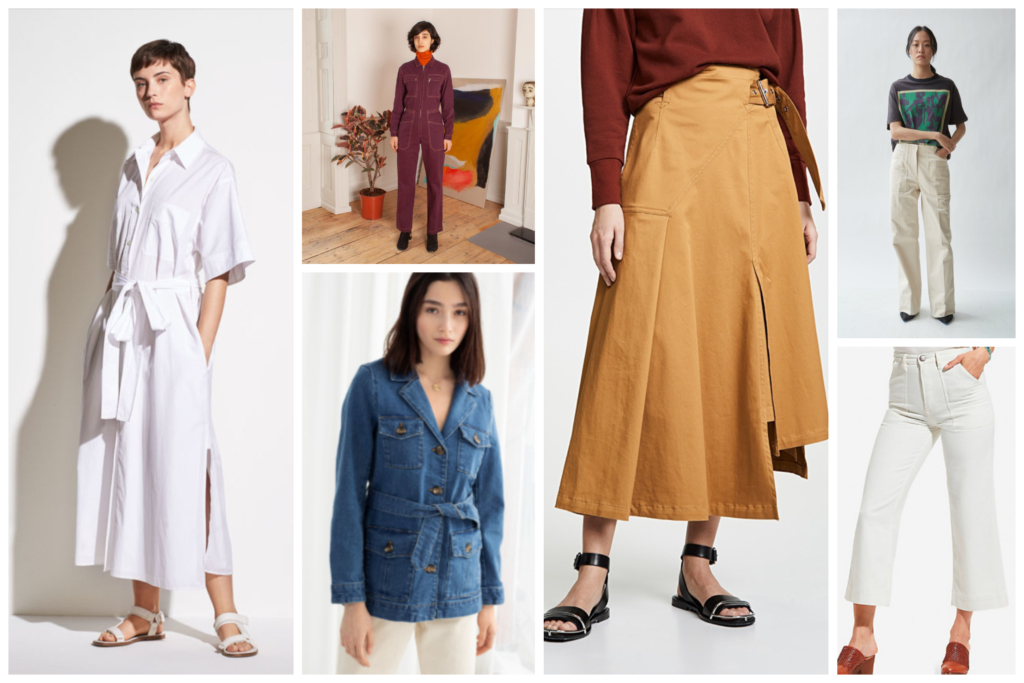 1st Column: Vince Short Sleeve Utility Shirt Dress
2nd Column: L.F. Markey Danny Longsleeve Boilersuit, & Other Stories Belted Workwear Denim Jacket
3rd Column: 3.1 Phillip Lim Utility Belt Skirt
4th Column: Acne Studios Portia Cotten Drill Flared Trousers, Wrangler High Rise Utility Crop Jean
As seen all over runways like Oscar de la Renta and Rodarte, it's time to tap into your crafty side with crochet pieces. Don't worry – this is not your grandma's crochet! The look adds an element of 70s cool while still chic and elevated. Pair a crocheted top back to the wide-legged workwear denim from the utilitarian trend, be bold with an all-over crocheted dress, or look for purses and mules that easily take your outfit to the next level.

1st Column: Ulla Johnson Barranco Tote, Ryan Roche Cashmere Mini Crochet Top Dress
2nd Column: Rachel Comey Sedum Top
3rd Column: The Dreslyn Miista White Ida Woven Leather Mules, X by NBD Lana Mini Dress
Once it finally feels warm enough, it'll be time to break out the shorts. I'm not even talking about basic denim short shorts though. I'm way more excited about silhouettes that can even take our shorts into the workplace! On the more daring side of this spectrum are biker shorts which can be matched with boyfriend blazers or flouncy blouses. Or try tucking in tees and shells into wider shaped shorts. Make sure pairs like these cinch you at the waist and billow out from there for an ultra-flattering fit.

1st Column: Veronica Beard Makayla Shorts, Rejina Pyo Renee Cotton-Blend Shorts
2nd Column: ei8htdreams Uneven Denim Hem Cycling Shorts
3rd Column: The Odells Skater Shorts, Nanushka Jersey Paisley biker shorts
4th Column: Richard Quinn Floral Satin Biker Shorts
Enjoy the start of spring and all the sunny vibes you'll be adding into your sweet new wardrobe!