Everyone has a wish list and a budget. Part of my job working with clients is to help them select seasonal updates that will give them the most love back and stand the test of time. For example, opting for the black pleated skirt instead of the trend ready metallic, investing the leather bomber first and adding the fashion forward satin afterwards.
The return to maximalism gives us all a chance to express ourselves by reworking the most basic of basics. If you are coveting that ultra feminine Gucci girl look or Fendi's elevated sportswear, it's the perfect time to invest in basics within your budget and follow these #DIY tips to achieve look. And it's a perfect indoor project for these last winter weekends to get excited for the season to change.
Start by purchasing a few trims and adorn your staples with those gorgeous pins from the back of your jewelry drawer that you have inherited from family or collected from favorite vintage stores years ago. The best part is that in minutes you have created something personal to you, and given new life to your pieces – love a good shop from your own closet!
The Inspiration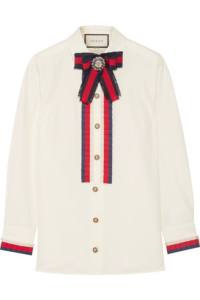 Gucci
Embellished grosgrain – trimmed cotton – poplin shirt
1,400.00
How to do yourself
Everlane
The Relaxed Silk Shirt
$88.00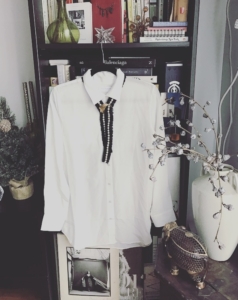 Pearl and Lace Trimming
approximately $12.00
from Pacific Trimming
Vintage Dior Pin
$100.00
The Inspiration
Fendi
Studded Jersey Sweatshirt
$1250.00
from Saks 5th Ave. 
How to do yourself
Everlane
The Street Fleece Pocket Pullover – Grey
$55.00
from Everlane
Assorted Pins
from Pippin Vintage
Finished Product