It has taken a moment for me to get excited about about this decade reprised – first with minimalism, norm-core, and neon. I am more of a sixties and seventies child, with a deep love of more is more, bow blouses, shift dresses, and quirky loafers. As the influence continues, I find myself charmed by the return of the perfect high-rise norm core denim by GRLFRND, the reinvention of the puffer by Balenciaga and Prorseum, and the resurgence of the cropped flare everywhere.
[vc_row][vc_column][/vc_column][/vc_row][vc_row][vc_column][vc_separator][/vc_column][/vc_row]
By far my favorite pieces to revisit are the mini bag and my beloved Campers! My favorite mini is the phone bag, a brilliant guarantee you will never misplace your cell. There are so many playful shapes that are truly works of art, the prettiest way to make sure everything is in its place. And who didn't love their comfortable chunky Campers that some of us held on to way past their prime? Pairing the updated mini bags back to Camper's new quirky mismatched loafers is the ultimate way to fall back in love with the decade for Spring.
Look 1
Dolce & Gabbana
Mini "Von" Wallet Crossbody Bag
Black
from Farfetch
$1,295.00
Camper
Twins
Green & Black Leather (K200227-001)
from Camper
$120.00
Look 2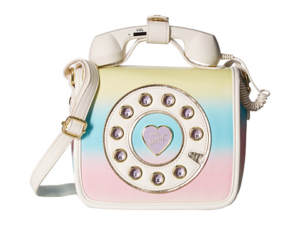 Betsey Johnson
Mini Phone Crossbody
Rainbow
from Zappos
$88.00
Camper
Fidelia (K200318-001)
Grey leather
from Camper
$195.00
Look 3
Edie Parker
Carol Stud
from Edie Parker
$1,895.00
Camper
Bowie (K200202-002)
Black & White Leather
from Camper
$120.00