Holidays are one of my favorite times of year, you get to be with the people you love and you get to be treated! For that reason this Paris trip is always special – I love providing this service whether it is a discount on a luxury piece or something unique at one of the boutiques below.
Though this edit is for the ladies – for ideas for a gift to yourself or for someone special – the men can check out my favorites brands
Essential Antwerp
and
Samsoe & Samsoe
 online too! Every resource will ship to the US, so if you see something you love don't hesitate.
Mes Demoiselles

Though you can now find select pieces at revolve.com and boutiques throughout the US, I often send clients to shop online for the most sumptuous knits and peasant blouses –  best priced for the gorgeous quality.
Their treatment of fringe is always so special and they also have one of my favorite hi-low tops for the season – a statement that can go day to night.
Mes Demoiselles Paris
Cardigan Kwanita
290 Euro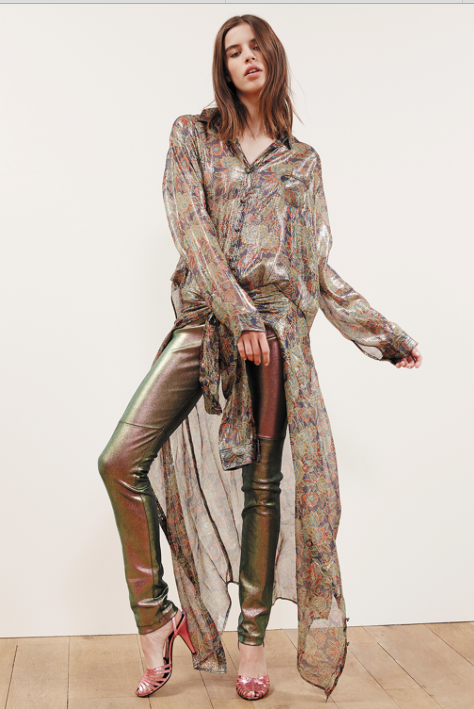 Mes Demoiselles Paris
Chemise Cerisier
215 Euro
Sandra Serraf
 Named after Sandra herself, this boutique has an amazing edit thanks to her keen eye and skillfully mixes selections from established collections like Isabel Marant and See by Chloe with beautiful handmade pieces from emerging talents like Stella Pardo or Sarahlam. Sandra also collaborates with designers and my favorites this season were some of her fantastic woven leather bags, truly boho + chic. See some of my snapshots below and follow them on
Instagram
to shop!
Abou d'Abi Bazar
One of my favorite things about this store is the merchandising, there is always so much color in all of the ready-to-wear and accessories that it looks like a jewel box! This is one of my favorite curations of European collections at great price points, especially amazing designers from Belgium you cannot find in the US like Essentiel Antwerp and Bellerose, and Samsoe & Samsoe from Denmark. This year I picked up this amazing reversible faux fur bomber for me!
Bellerose Blouson Apache
222,00 Euro
They have a cute page where they feature the looks in their windows so you can see additional product and styling to inquire about – as always love the bold color like in the example below!