Rain drops might be falling on our heads, but that doesn't mean we can't look forward to sporting our best spring looks! This season is an opportunity to play with color and I have found myself particularly drawn to pretty pastels.
Lightweight rain coats in mint, pink, and lilac are neutral enough to wear with anything, while adding a pop to our spring wardrobe refresh. Translucent options allow you to show off the rest of your outfit without the concern of getting uncomfortably drenched.
Pair jackets with a fresh pair of rain boots that prove not all rain boots are an eyesore! Pastel is again an option here and can help you get into the monochromatic trend of this spring. Stark white and metallic boots are another favorite – there's such irresistible joy in these that you'll probably find yourself splashing around in puddles! Don't say I didn't warn you!
If you want a one-stop rainy update, try ditching your boring black umbrella for a printed, colorful option. Carrying one of these will make the rain feel less dreary and will add a spark of fun and playfulness to any outfit.
Stay dry and enjoy spring!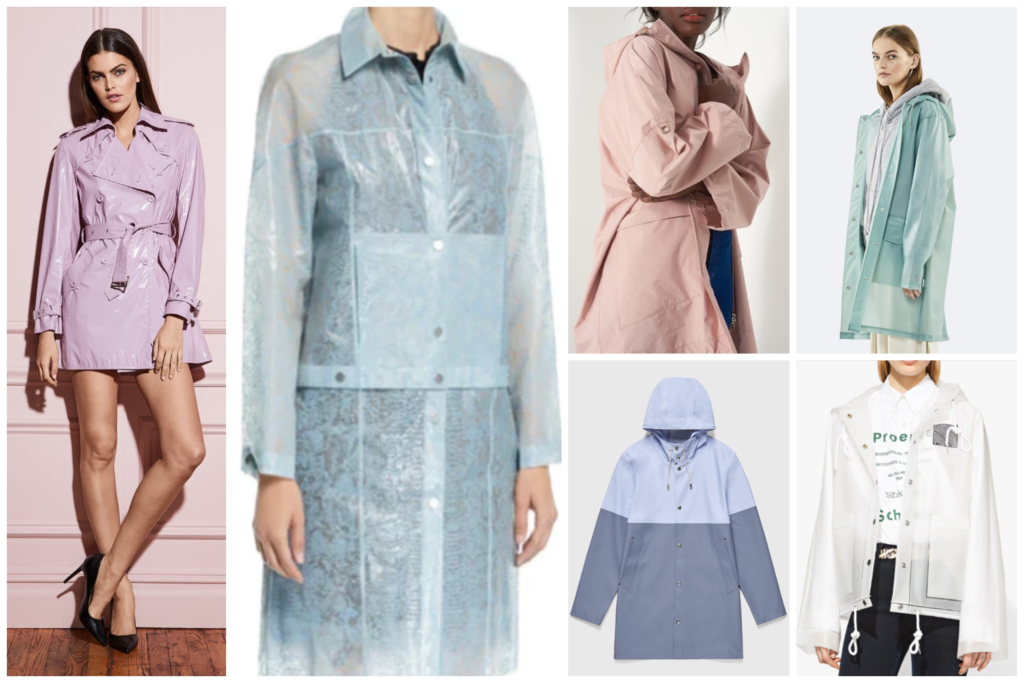 1st Column: Fleur de Mal PVC Mini Trench
2nd Column: Paskal Blue Raincoat
3rd Column: Sosken Honor Pink Oversized Packable Raincoat, Stutterheim Stockholm Blocked Skyway Raincoat
4th Column: Rains Hooded Coat, Proenza Schouler PSWL Care Label Raincoat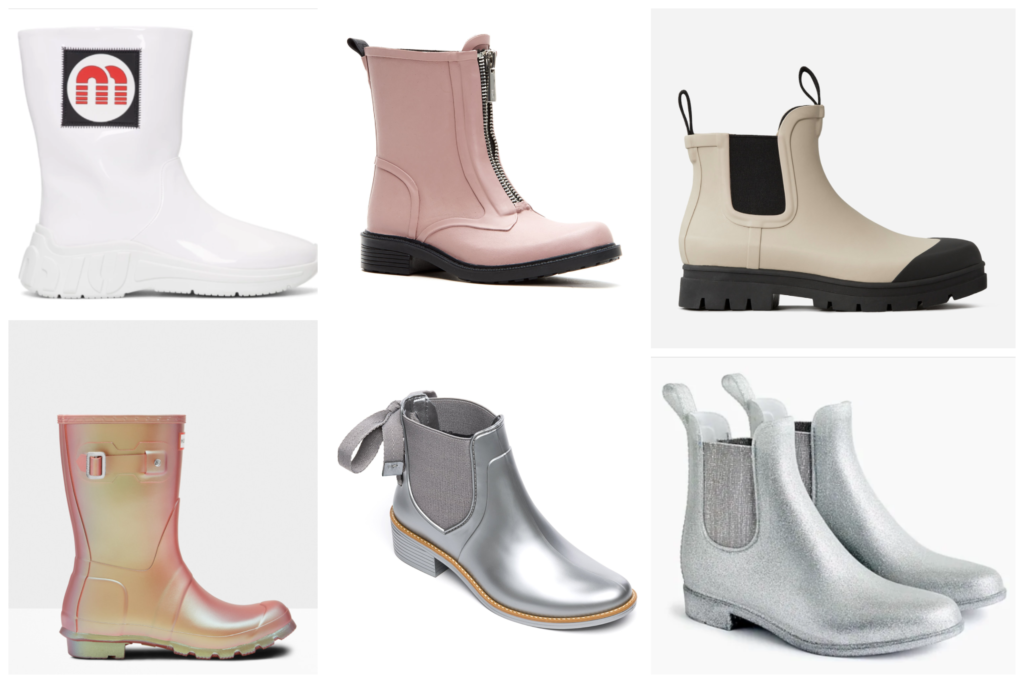 1st Column: Miu Miu White Patent Logo Boots, Hunter Original Nebula Short Rain Boots
2nd Column: Frye Storm Zip Rubber Rain Boots, Bernardo Paxton Rain Boots
3rd Column: Everlane The Rain Boot, JCrew Glitter Chelsea Rain Boots

1st Row: Clementines French Concession Umbrella, Kate Spade Rainbow Stripe Umbrella
2nd Row: Fulton Minilite Yellow Floral Umbrella, Totes Bubble Umbrella, ShedRain Iridescent Umbrella